Ski lessons – Snowboard
For information or reservation, you may send me an email including the dates you are interested in, the number of classes and I will get back with you as quickly as I can.
Equipment rental
Usully I go to intersport. They have two shops. You can check them on th website.
You can book directly : intersport-serrechevalier1400.com
If not, let me know wherea you will stay and I will let you know where the nearest equipment rental place is.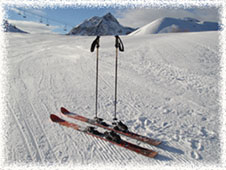 Lodging
I know a house with three new and big appartments.
Here you are more information : rental appartement. If you want to book, please send me a mail !
For another lodge, please go directly to the Tourist Office website.
Lift tickets fare
It is a magnetic card, very practical as there is no need to present it all the time, you just have to slide it on the box at the bottom of each lift.
Good to know: you may order it and receive it at home. You may find all the conditions and fares are on the lifts website.