Editorial :
We are mid-March and we've got still more than a month to enjoy skiing. For those who I haven't seen this year, I hope you enjoyed your days off. If you were under the snowy weather like in Serre-chevalier, you must have had a lot of snow! Temperatures were cold enough I must admit. But… the plus side is that it maintains the snow on the slopes.
Spring is now slowly creeping in and more sun will help us to keep a good tan!
Talk to you soon !!
Did you know that…
Last year the Hautes-Alpes were recognised for their outstanding features through the classification of Briançon and Mont-dauphin in the UNESCO global heritage. This year Pelvoux ski resort proposes to host the Olympic Games of 2018.
The decision will be taken on 18th March 2009 by the French Olympic committee. There are 4 competitors: Annecy, Grenoble, Nice and Pelvoux.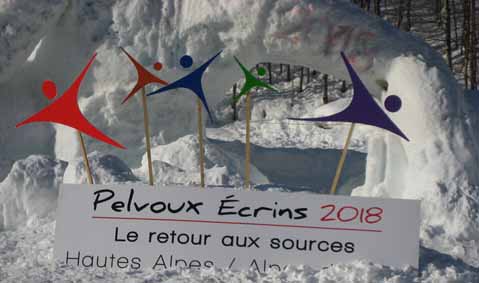 Pelvoux is located the a nearby valley and its Olympic Games would be environment friendly and sustainable, respecting the Nature National Park of Les Ecrins which cuminates at 4 000 m high.
All structures would be dismountable, even the stadium (which would welcome the opening and ending festivities) and the ice ring for the speed skating.
This is the official site of Pelvoux proposal where you will find all the details: http://www.pelvoux-ecrins-2018.com
View taken from the tops of Pelvoux ski resort: on the left, Vallouise.

We can guess some Puy-saint-vincent slopes in the forest.

On the right, valley leading to the Eychauda lake.

At the back, the pyramid-like top of la Cucumelle (Serre-Chevalier).

We can join Serre-Chevalier and Vallouise in off-piste skiing.

Good news!

For those of you holding a disabled person card,

Serre-Chevalier is offering discount rates:

free access for more than 80% disability,

and child rate for less than 80%.

For those suffering from hearing impairment, please show your disability card at the counters (I couldn't find a web site)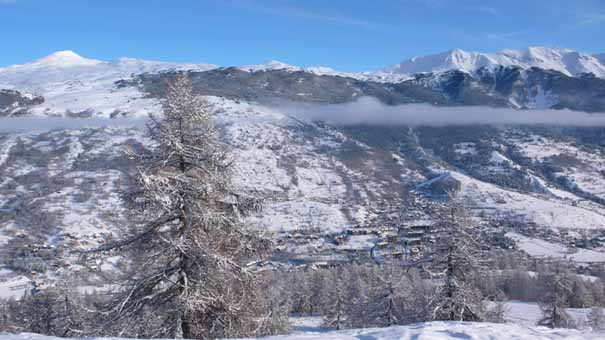 On Tuesday 10th March, snow was showing up again.
It has remained only onto the slopes and the roads in the city were clear right from the next morning due to the warm sun.
Season 2008 / 2009

snow depth

15th December

15th January

15th February

15th March

15th April

** @ first ski lift level

70 cm

95 cm

135 cm

40 cm

- cm

** @ hight ski lift level

230 cm

215 cm

255 cm

190 cm

- cm

Last snow fall

15 december

7 january

12th february

10 march

-

Number of sunny days
(from 1st Jan. 2009)


250 days

14 days

31 days

57 days

-
Accès au site internet : ski-surf-and sun