* Did you know….?*
Water reservoirs for …people? Cattle? Is it possible?
Well probably but what we will be talking are reservoirs to create artificial snow.
These reservoirs are financed by the ski resort to avoid pumping water in the rivers.
Before the creation of those reservoirs, the water was deviated from the bottom of the valley and pumped up to the mountains.
Creating reservoirs has enabled resorts to save energy and rivers are no longer dried out during winter season.

Risoul, a ski resort close to Serre-Chevalier, is pumping water in a phreatic zone close to the Durance and this means it has to be carried up to more than 1 000m higher. This is a high energy consuming activity.
With water reservoirs, as they are situated in the mountains themselves, water has just to come down the hill, gaining natural pressure while the water pumped into the valley needs to be put under pressure when it arrives to the snow cannon.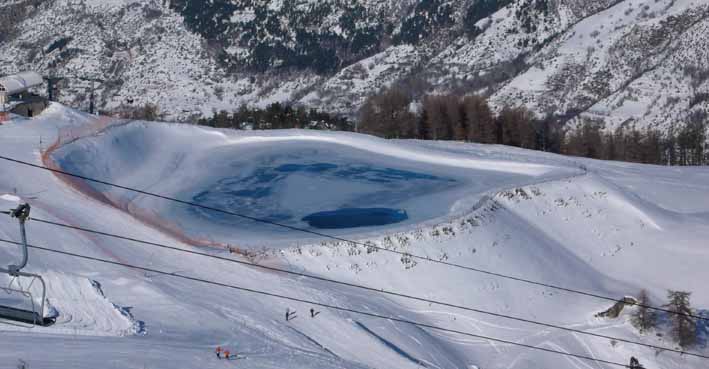 Picture: reservoir at the arrival of the 'Casse du Boeuf' chairlift
I am often asked if any additives are thrown into the reservoirs to prevent water to become ice or if we need any additive to make the artificial snow.
The system is simpler to prevent water to become ice: there is a bubble system (just maybe like the one you might have in your own bath!) which prevents water to stay still and to become ice. The only probability would be that a thin ice cover appears but ice won't spread to the rest of the water.
Serre -Chevalier is now fully equipped with this kind of reservoirs and some more are scheduled to be added for the coming years.