| | |
| --- | --- |
| SKI SURF and SUN | La GAZETTE |
| | | |
| --- | --- | --- |
| | N°4 | 15th March 2008 |
° Editorial by Isabelle °
We are already in March and soon in the Easter holidays. It is almost time to search for the eggs of the Easter Bunny. But where should we look for them? Because we still have snow in the fields! Maybe they have a radio frequency system in moutain countries!!!
Write to you soon !
Picture taken from the Aravet cable car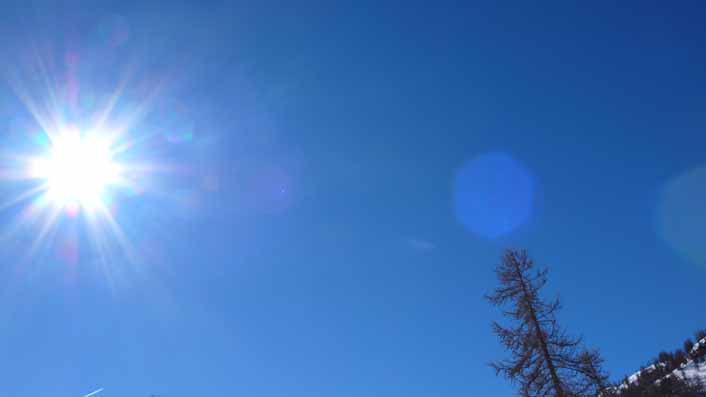 Here the famous sun of Serre-Che which showed up every single day for 6 weeks.
With such a blue sky, no need to mention a computer assisted image software is not required.
The Monkey ...




° Key dates °

Dimanche 30 mars :
Derby de Serre-Che

Sunday 30th March : Serre-che contest :a context going 1100m down on the slopes of the Cucumelle. Please note the number of participants is limited (300) so register quickly !

For more information, contact the
tourist centre.

° Did you know…? °
larches ?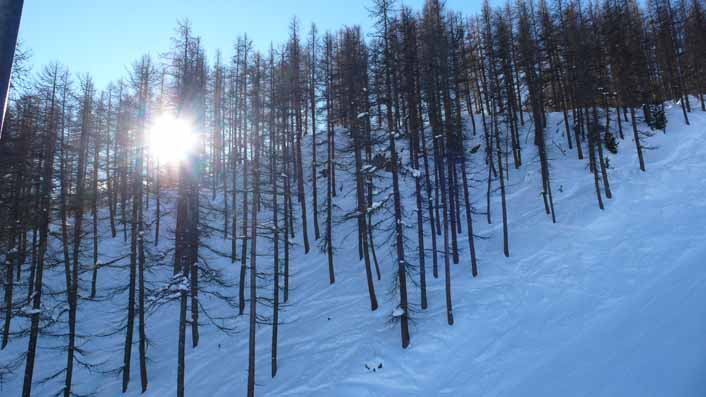 I am often asked why those trees are suffering from a vegetal disease or whether there was a forest fire or a severe drought.
The answer is that these trees are perfectly in shape: they are larches and their particular feature is that they lose their prickles during the fall. The prickle layer constitutes an excellent fertilizer for plants and they offer a good shelter for small or very small animals. The wood of the larches doesn't rot away and is extremely solid. Larches are mainly found in the South Alps where the air is dry and pure.
When skiing off-piste, it is easier to slalom in a larch forest than in a spruce or a fir tree forest: it provides more space and visibility. It becomes a kind of organic slalom! Forests near the slopes are very useful as protecting from the wind and offering decisive orientation markers.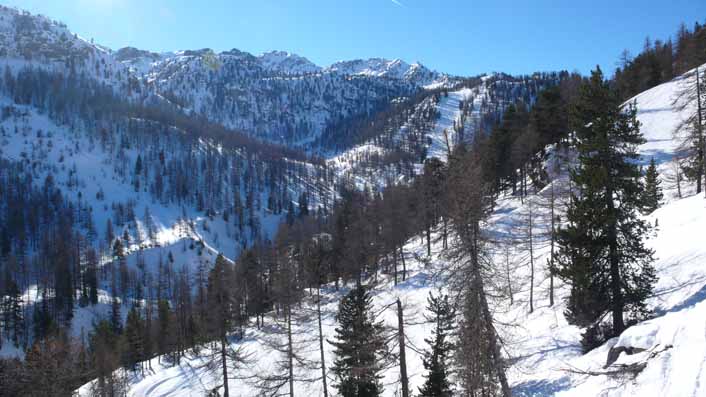 Montgenèvre ski resort early March
° A special thanks…°

Some parents of deaf pupils have chosen me as a ski teacher and I really want to thank them for trusting me. I shall keep unforgettable memories of these moments and of every little progress they have made.

See you next year !!

° Coming soon°

I know you are expecting the course pictures. Life has been quite hectic recently with more and more courses and I am running out of time. Do not worry, it is on my to-do list and as soon as they will be online, I shall tell you by email. Thank you for your patience!
Season 2007 / 2008

snow depth

15th December

15th January

15th February

15th March

15th April

** @ first ski lift level

35 cm

120 cm

105 cm

65 cm

-

** @ hight ski lift level

145 cm

240 cm

200 cm

195 cm

-

Last snow fall

10 th december

15 th january

4 th February

12 march

-

Number of sunny days
(from 1st Jan. 2007)


314 days

to be announced

to be announced

to be announced

-
Access to the web site: ski-surf-and-sun